Welcome to Giddings Boatworks, Inc. of Charleston, Oregon.

Overview
Ray Cox purchased Giddings Boatworks, Inc. in 2007 after Don Giddings (original owner) retired. Ray and his crew have been working hard at continuing on the tradition of Giddings Boatworks. Giddings Boatworks provides service from the Pacific Northwest, to all of the west coast from California to Alaska. It's our vision to be your preferred world-class marine repair solution where quality and value converge. We pride ourselves in doing top quality steel work and have been building and repairing Commercial Fishing Vessels since 1979. We are committed to contribute to the success of our customers through continuous development of our capacities, technical competencies and a motivated workforce, and to support the fishing communities that we serve. We are proud of every new custom boat or repair job that we do, as well as the fact that everything we do helps define us as a Made in Oregon & Made in the U.S.A. company!
---
We are growing and building!
We are primarily a repair facility serving the fishing fleet but also have a respectable record of new construction too. Giddings Boatworks is the home of the F/V Time Bandit from the TV show "Deadliest Catch", we also built F/V Cape Caution, F/V Aleutian Ballad, F/V Ramblin' Rose, and the F/V Maverick. We have also recently completed construction on two new fishing vessels, F/V Miss Emily and F/V Patriot. View a list of our ship building history here: www.shipbuildinghistory.com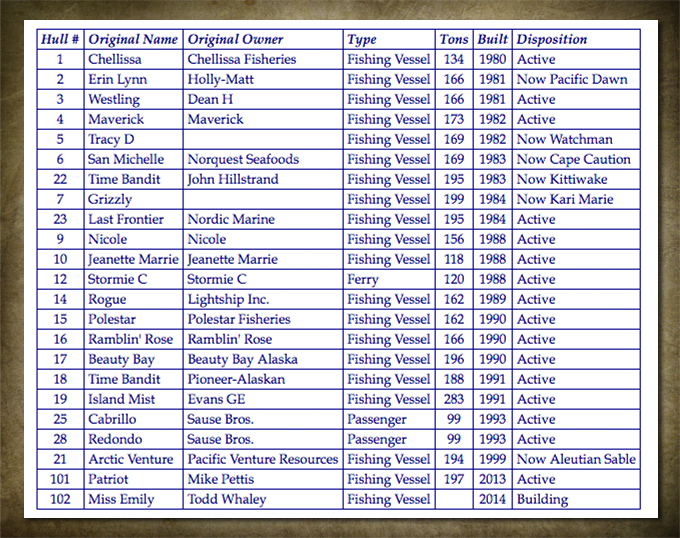 About Our Logo
We have recently had our advertising agency create a new logo design for us to help reflect who we are as a company and express the pride and quality of workmanship that we place in every boat we build and work on, as well as the heart and spirit of our team and family at Giddings. Much thought and research went into the new Giddings Boatworks logo design. It shows that Giddings has a long history of being in business, while reflecting the pride we put into every project, the fresh boldness, new focus and expanded direction in which we are moving in. We will be applying this new logo design to our advertising, promotional products, business materials, and of course, to the bow of of every ship we build. It carries a deep and historical meaning as well as a blessing for every vessel that it adorns.
At the heart of our logo is the Nautical Star which represents quality, pride and the original/historical navigational system for sailors and fisherman. It is an easily recognizable geometric symbol and symmetrical shape that is unique to any other logo in the boat building industry. It also references rank, as in a 5-star general, high quality, as in a and is a 5-star resort or restaurant, is a symbol of patriotism and is an American icon. The symbol recalls both the five-pointed star of the US national flag and the distinctive color pattern of the compass rose found on many old nautical charts. The star is a symbol of good luck and safe travels across the sea. The combination of star, rope and waves together show our connection to and pride in our community, state, country, fishing industry, ocean and ultimately in our team and products from Giddings Boatworks.